Happy Monday friends,
This past Friday my girls had Tri-Conferences at their school. Not sure if you're familiar with the new concept of what use to be known as the parent teacher interview. Rather than the child being excluded from the conversation between the parent/guardian and the teacher, the child is central to the interaction. We had the opportunity to not just hear about their progress from their teachers, we also got to see first hand what they have been working on over the past several months, and experience a little of what they're learning, as they walked us through experiments, power point presentations and art work that they've created. Hearing from their teachers that my girls are kind, and respectful, considerate, and intelligent is so encouraging, and heartwarming. Seeing some of the things they're learning, and how they are learning them make me excited for how much further along they will be academically by the end of elementary school than I was at their age. Have you seen the way Math is taught these days? If only we had learned it that way. Horizontally makes so much more sense than going down columns. Their ability to put together their very own movies using Power Point, and the social awareness they develop through a variety of tools through Social Studies is far and wide beyond what and how we learned in school 10, 15, and 20 plus years ago.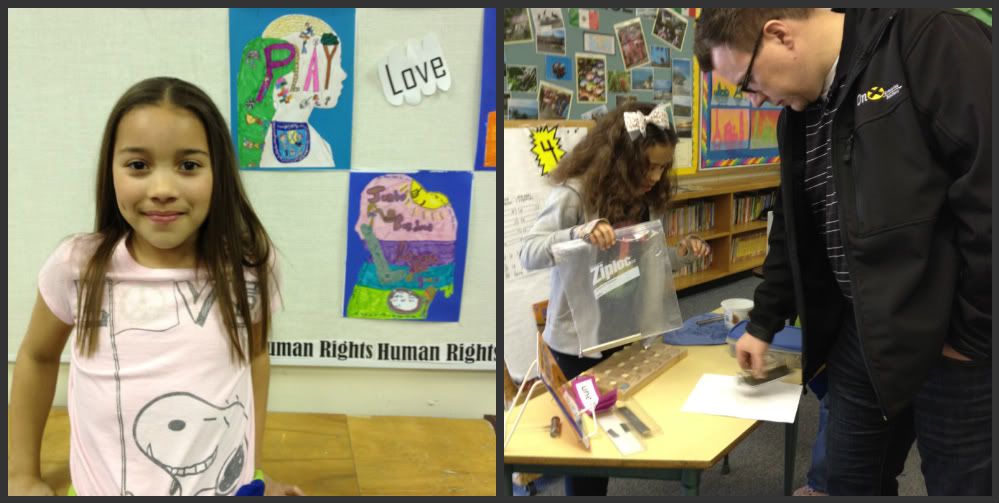 My heart was swollen with pride as we left the school, walking as a family to our vehicle. I was very aware of how blessed my girls are, how blessed we are as a family to have the freedom and ability to send our children to school. They will never know the reality of some, who don't have that privilege. They will never have to leave their studies to help support their family financially. They will never have to wonder whether or not they'll have the opportunity to graduate with a High School diploma. They have teachers who genuinely care about their academic, social, and emotional well being. And most importantly they have parents who are ready and willing to partner with the school to help ensure the best possible foundation for learning in these formative years. I consider it such a blessing to be able to be at home during this time. I consider it a blessing that my husband is able to take time away from work to have been there will me as our girls, with pride in their eyes showed us how much they are learning. This chapter in our lives is one that carries with it many emotional ups and down, many mornings of frayed nerves, and many evenings of wondering if we are getting it right. But, it is one I wouldn't trade for anything. It is A LOT of work, there is A LOT I hadn't really considered when they were teeny tiny, and so dependent on me for everything. But through them I learn so much more about the way my Father loves, and cares for me. Through them, I experience the love of my creator as I stop to consider that I am His child, and in me, He delights. Through them I get a glimpse of Heaven on earth. When we are in our rhythm, and love and friendship, and kindness, and sharing, and all those good things are flowing I begin to comprehend that although God is in the midst of our lives here on earth, rejoicing with us as we live in the middle of His daily blessings, there is so very much more in store for those who call him Father. I praise God for His daily portion in my life, and the many blessings he has chosen to pour out on me. I praise Him even more for all that is yet to come in eternity. Proverbs 22:6 says "Train a child up in the way he should go, and even when he they are old they will not turn away from it." I praise God that He is the source of our wisdom, and strength as we do our best to see this truth lived out in our girls.
Is there an everyday miracle you recognize in your own life today? Have you praised Him for it yet? He gives generously (James 1:5), and he delights in YOU today (Psalm 149:4).
PRAISE the Lord, all you nations!
Praise Him, all you people!
For His mercy and loving-kindness are great toward us,
and the truth and faithfulness of the Lord
endure forever.
Praise the Lord
Psalm 117
Pin It