Scrapping Everyday Miracles Challenge #13 is live today. This month Roulien challenged us all to come up with one word that describes who we are. I found this a little difficult. I've always found it difficult to describe myself in one word. I guess it's because I feel like choosing just one word would put me in a box. There are a number of words that would be appropriate today, that may not be appropriate next week, or next month perhaps. There are times when I believe that the best way to describe myself would be to say that I am a contradiction. Some days I am as predictable as snow in winter. Other days I can take even myself by surprise with the choices I make. What I chose to do rather, was consider all the ways my Lord would describe me. As it turns out one of the devotions from Proverbs 31 Ministries last week focused on just that very thing. The article spoke about the trouble we can have, especially as women, recognizing our worth outside of the role we fill for our spouse, our children, our bosses, etc. The writer went on to remind us of all the ways God sees us, the way He created us. I chose to use this as the basis of my layout.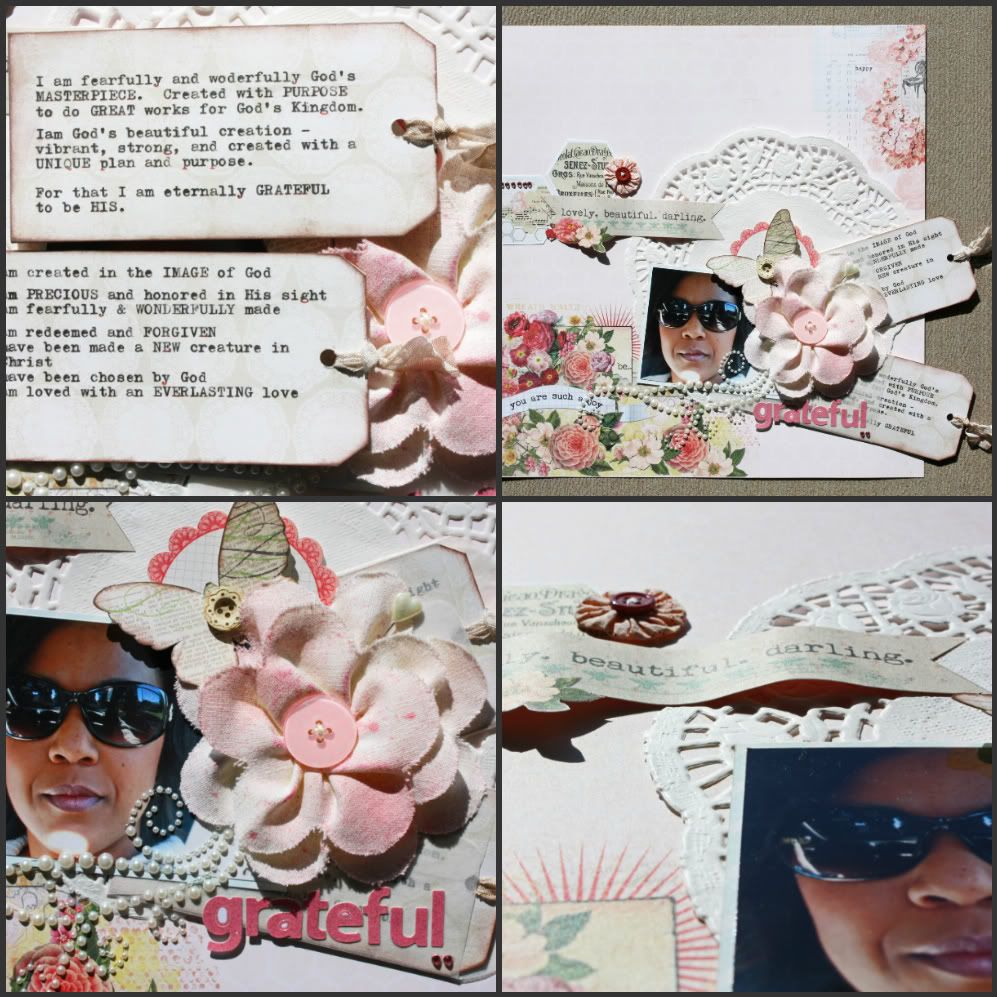 Using My Mind's Eye Follow Your Heart collection. I sprayed the Pink Paislee mistable trim with pink Mr. Huey's and used a Gluber to make the large flower.
There are other words those close to me would use to describe me, and perhaps one day I'll do a layout focused on them. This week, however it was humbling yet empowering to focus on the way my Creator sees me. His Word is full of beautiful descriptions of how He sees all His children. Scripture says that YOU are:
- created in the image of God (Genesis 1:27)
- fearfully and wonderfully made (Psalm 139:14)
- precious and honored in His sight (Isaiah 43:4)
- redeemed and forgiven (Ephesians 1:7)
- a new creature in Christ (2 Corinthians 5:17)
- holy and blameless before God (Ephesians 1:4, 1 Corinthians 1:30)
- chosen by God (1 Peter 2:9)
- God's masterpiece (Ephesians 2:10)
- created with purpose to do good works for His Kingdom (Ephesians 2:10)
- and on, and on, and on...
For me, these promises serve as a wonderful reminder of not only who I am, but whose I am. How about you? How would you define yourself today if asked?
I encourage you to pop over to
Scrapping Everyday Miracles
to see what the rest of the team came up with. There are some really gorgeous layouts to see. Our sponsor this month is the sweet, and oh so funny Shelleye of
Dot & Whimsy
. She has offered up a bundle of her fun and playful crepe paper fringe as a prize for this month's winner. She has some really fun scrappy goodies in her Etsy shop, so be sure to pop over there and have a peek. Remember you've got until the end of the month to complete the challenge and "define yourself". Be sure to link me up if you do.
Happy Monday to you friends,
♥ S.
Pin It