This month I decided to create a challenge for myself. I wanted to show off how much goodness Cassie packs into a kit, so I used nothing from my stash, but one piece of cardstock, a black pen, and some thickers (the thickers were only because the alphabets included in the Swag Bag didn't match the colours I chose from the kit).
So much fun in one little bag right?! I especially love that my bag happened to be the one with an "f" pendant piece in it.
Puffy stickers, chipboard stickers, pennant pieces, so much goodness to stretch out over several layouts, or like I did use primarily on one.
Check out how our fearless leader Cassie Box knocked it out of the park with her bright & bold style here.
Like what you see? What to get your hands on your own Swag Bag? You can check it out in the Paper Issues shop here. Don't forget that you can save 20% off your entire order by using code:SHERRI.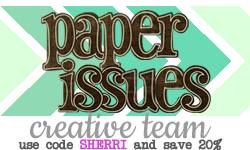 Pin It