I was so proud of Eden as she tackled her very first Dance Solo ever this past April. She was fortunate enough to be given a Tap Solo, for which she worked really hard to nail all the choreography she was giving. When she took the stage she was shining like a diamond. She had all the personality of a seasoned dancer, and me smiling from ear to ear with pride.
Here she is preparing to go backstage. It was an early morning start for her category, and I think she was happy to have at least one other Kick It dancer there to help calm her nerves. Jasmine is not only a ridiculously talented dancer, but a total sweetheart, I think her calm, and self-assuredness helped Eden to remain calm, and focused during their pre-dance prep.
I used a mask and some gesso to add a little more texture to the background paper.
I just had to add the label maker phrases by October Afternoon, they were perfect.
My love of hand stitching made a come back on this one too.
I have been loving all the past new releases by Fancy Pants Designs. I loved cutting up the patterned papers, and layering all the bits and pieces of the ephemera package. One of my favourite embellishments in all the new collections are these
Library Cards & Pockets
.
I think they are perfect for not only adding colour and design to the layout, but also for recording the story behind the layout, without having to really incorporate it into the design of the layout.
You can get your hands on more
Fancy Pants
products right here in the Paper Issues shop. If you use my code you'll save 20% off your entire order, who doesn't love to save a little money?!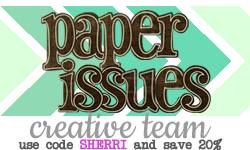 Thanks so much for stopping by today friends!
Pin It