I think I've made my first teacher gift of the year.
This 8x8 butterfly frame seemed like the perfect project for the rainbow of colours I have of the fabulous Doodlebug Designs Vellum sheets.
The vellum cuts like a charm through the paper trimmer and the Silhouette Cameo. In this case I used my old Martha Stewart punch to create the butterflies. I simply layered 2 punched butterflies one on top of the other and stitched them down to the cardstock. I created the title using my Silhouette Cameo, and added just a touch of pink distress ink to the Fly for extra pop.
You'll notice there are so many colours that I haven't used (needed a much bigger frame to get them all in). I have another idea for getting the full rainbow of colours onto one project, but you'll have to wait for that one.
The Doodlebug Sprinkles collection is so cute. You can see these vellum sheets and the rest of the bright and cheerful collection
here
, in the Paper Issues shop. Don't forget to use code:SHERRI at check out to save 20% off your entire order. US customers earn free shipping on all orders over $60 before discount.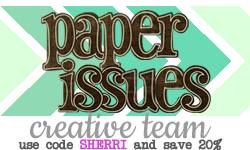 Pin It