I have a couple Amy Tangerine Plus One layouts to share with you today.
It seems this guy seems to making his way into my pages a lot these days.
I normally go for softer, less bold patterns in my scrapping, but it was fun to break out of the box and try my hand at these bold designs.
The cute Lucky flair was one of the goodies in the Paper Issues March Swag Bag. You can check out the April Bag here.
Isn't that puffy cloud adorable?
For this layout, I used a B side for the background, and added pops of colour to the rest of the layout. The photo is one that was taken a couple of summers ago when we enjoyed a week long "staycation" (someone, may or may not have forgotten to renew her passport in time to go across the border)
I really liked the water colour splotch on the bottom of green and yellow, and tried to replicate it toward the top of my photo using a little mist.
The alphas originally purchased were the white ones in the collection, but I needed yellow to work with this layout. It was super easy to simply paint the alphas with my yellow mist and a foam brush.
The puffy sticker set comes with 27 sweet designs.
You can find them, and the rest of the Plus One collection in the Paper Issues shop right
here
. Feel free to use my code:SHERRI to save yourself 20% off your order.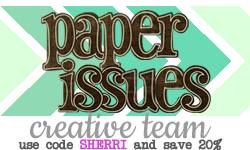 Happy Hump Day friends!
Pin It