Sharing a post I had up on the Paper Issues blog yesterday.
I am fortunate to take over the bi-weekly Product Feature posts for Paper Issues. It's a challenge to know what kind of products will get people excited as everyone has their "thing". I decided to jump in with a technique that I used, and chose the manufacturer based on what I wanted to work with and went from there. Here is the post I shared...
It's that exciting time of year when all the new CHA goodness we've been dying to get our hands on starts showing up in the Paper Issues store. The brand new Snapshots, Girl Talk and All Boy collections by October Afternoon are already available for purchase. But what to do with the bits and pieces we still have kicking around from the last release. For me, that's where my Moments In Between album comes in. Although I often use various Project Life style kits to document my everyday moments, when I have scraps from a collection that I have loved, I find a way to do a spread using that collection alone (no pre-made cards at all).
I've done just that this week with several sheets of October Afternoon's
Apple Cider collection
, a package of
Tin Pins
,
Pop Drops
, coordinating
Story Book alphas
& label stickers, and the
Inspiration roller stamp
. I threw in a few scraps of cardstock, and a handful of embellishments from my stash, including
these
, then used my Silhouette Cameo and sewing machine for additional visual interest.
Using a simple 3x4 piece of patterned paper with one single solitary embellishment is a great way to fill a pocket when there aren't enough photos, or just to create some "breathing room" on your page.
Without the help of pre-made cards I used the Story Book alphas, and label stickers to help me create some filler cards with quotes and journaling.

I may or or may not have ordered several colours of these alphas because they're so perfect for this style of scrapping.

You can see our selection in the shop here. It's hard to pick up but I used my sewing machine to stitch along the chevron lines on that top card for a little more wow factor (you'll just have to trust me that it looks cool in real life).
Now if you don't have an issue clearing out the old to make room for the new, and you're just itching to get your hands on the new October Afternoon goodies here's a little eye candy for you.
I love the soft colours and fun ampersands on this sheet from the Girl Talk collection.
And then there's this awesome coordinating stamp set
And I'm a sucker for cute flair buttons any day.
All the fabulous October Afternoon products you see here, both old and new can be found in the Paper Issue store. If you're in the shopping mood don't forget to use code:SHERRI to save yourself 20% off your entire purchase.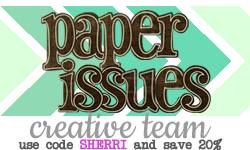 And, did you know that if you're in the US, any order of $60 (after discounts, and before tax) ships for free? Sweet deal.
Happy crafting friends!
Pin It