If you're anything like me, you tend to go a little overboard when you fall in love with a newly released embellishment, or product line. I'm usually pretty good about only purchasing small quantities of product, but every once in awhile I let loose and "get it all".
The Doodlebug Sprinkles vellum was one such purchase. The rainbow of colours was simply too tempting to resist. They looked so pretty all stacked up together, that I actually had a hard time cutting into the first sheet for quite some time. I've been using it rather sparingly until this layout. I finally had the nerve to use most of a sheet at one time, and designed my layout around a cut file I created.
The vellum is quite thick, but cuts like buttah. I placed my blade on a depth of 5 and a speed of 5 to get a nice clean cut.
I also used a couple of punches to create a few shapes in coordinating colours.
Now, what to do with all the scraps?
I used a lot of scraps to create this patchwork background.
This one was pretty fun for this Type A personality. I punched several 2" squares out of random scraps (and some non-scraps), I then went to town putting them on the background willy-nilly, and not overly concerned about what colours were next to one another. Doing it this way allowed me to get the background cut apart, and stuck down in only 20 minutes. The sewing of them took about another 20 minutes (I'll be honest - a little tedious, but a really fun look), again I was not at all concerned with which pieces were sewn which way, I just kind of went for it.
I used a scrap of regular vellum for the butterfly, which I cut with my Silhouette.
My journaling is tucked away on a Chic Tags card. Simple, and fun, and a great way to use up some of those gorgeous colour and styles of vellum.
The vellum and lots of new goodies, including Pink Paislee, Crate Paper, and Shimelle products are all currently available in the Paper Issues shop. Use my code at check out, and save yourself 20% on all your paper crafting needs.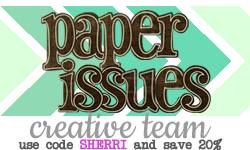 Thanks for stopping by today friends.
Pin It