I fell in love with Chic Tags products a few years ago when all they were were great little tags to tuck here and there onto your projects. They were great for adding journaling, little details like the date, and made great little embellishments. Today, in addition to those great tags they've also added paper collections, wood veneer, transparencies, label stickers, rub-ons, and flair buttons.
This photo is of my Théa daughter and her two besties on the morning of their Grade 6 graduation. They say time flies, and boy do I ever believe them.
You can see how simple this layout really is, boasting just a few pieces of patterned paper, and using mostly embellishments to add detail to my page.
That veneer cloud is so cute, add a little ink, and voila, you've made it even cuter.
This collection is available right
here
in the Paper Issues shop. Use my code at checkout to save yourself 20% off your entire order.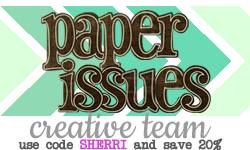 Thanks for stopping by today friends!
Pin It