This is the first layout I've ever created using only stickers as the bulk of my embellishments.
The Capture Life sticker sheet is packed full of colourful charming stickers.
Echo Park collections may not come with a lot of 3-dimensional elements but they sure make up with that with the number, and variation of stickers they include in their sticker sheets.
I used a lot of 3D adhesive to pop various stickers off the page, giving the page my usual layered style look.
I liked the look of that label maker sticker and decided to add a little more to it, using it as my journaling.
You can grab the Capture Life Collection for yourself
here
in the Paper Issues store. You may want to also check out the
July Swag Bag
, it's full of fun elements to add to your projects.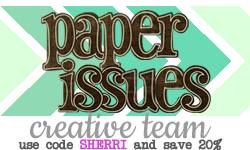 If you use code:SHERRI at checkout you'll save yourself 20% on your entire order.
You can also check out our newest Issue right
here
. Linking up could earn you a fabulous Echo Park prize pack.
Thanks for stopping by friends!
Pin It