I created a couple of layouts for
Paper Issues
this week, and want to share them with you all.
Have you seen the new Dear Lizzy release yet? I just love how super girlie it is. Being that I have 3 of them, I had no trouble putting it to good use.
Isabelle started taking Pointe this year, and I just love the way she looks in those beautiful satin shoes. What little girl doesn't think a ballerina is the most beautiful woman in the world? It doesn't change much as you get any older, I'll be honest. Belle isn't thrilled that I'm sharing this photo of her, as she's embarrassed that her pointe isn't very good. Being that I really know nothing about Dance besides what time to get them there and how much I pay for it, I think it looks gorgeous, and therefore deserves a spot in our albums.
I couldn't resist adding that stitched ampersand by Amy Tangerine.
I struggled between both wanting to hoard these wooden buttons, and using every single one of them on this one layout.
I'll have another layout to share with you soon. Until then how about a sneak of one of my Maya Road layout coming to the Chic Tags blog next week?
The product swap between Chic Tags and Maya Road was pretty fun, and I can't wait to show you what I've created.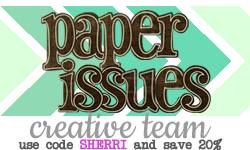 Thanks for popping by today friends!
Pin It