We're back safe and sound. Sorry, to have left you hanging over the past week. I wasn't able to post on the road. Hubby and I tried several times to get photos posted to the blog using the iPad, and neither of us were able to find success. We did, however have a fabulous trip. Disney World, for us, lived up to all the hype. There were some surprises, like how chilly it got in the evenings, and how early all the parks closed at this time of year. But we have no complaints. The kids had a wonderful time, they saw a lot, walked a lot, got along pretty well, and thoroughly enjoyed sharing the experience with their grandparents. All in all we hit the following parks, and favored the following rides. Magic Kingdom: Space Mountain, Universal Studios: Rip Rocket Roller coaster, Islands of Adventure: Dragon Challenge, Hollywood Studios: Rockin' Roller Coaster, Epcot: Mission Space, Animal Kingdom: Expedition Everest. Did I mention that all but one of us are roller coaster junkies? All that is, but Théa. I have the best photo of her to share with you at a later date. It's the one and only photo we did buy from any of the parks. I am so glad we decided to do this trip, and that we waited until now. Our kids are the perfect age, and going at this time of year meant that we had virtually no line ups to deal with. Seven days just wasn't enough. Even with all the planning I did we still managed to run out of hours at the end of every single day. I'm really hoping there will be a 'next time', there's still so much I'd like to see, and a couple of roller coasters I didn't get to.
Here's a snapshot of our week.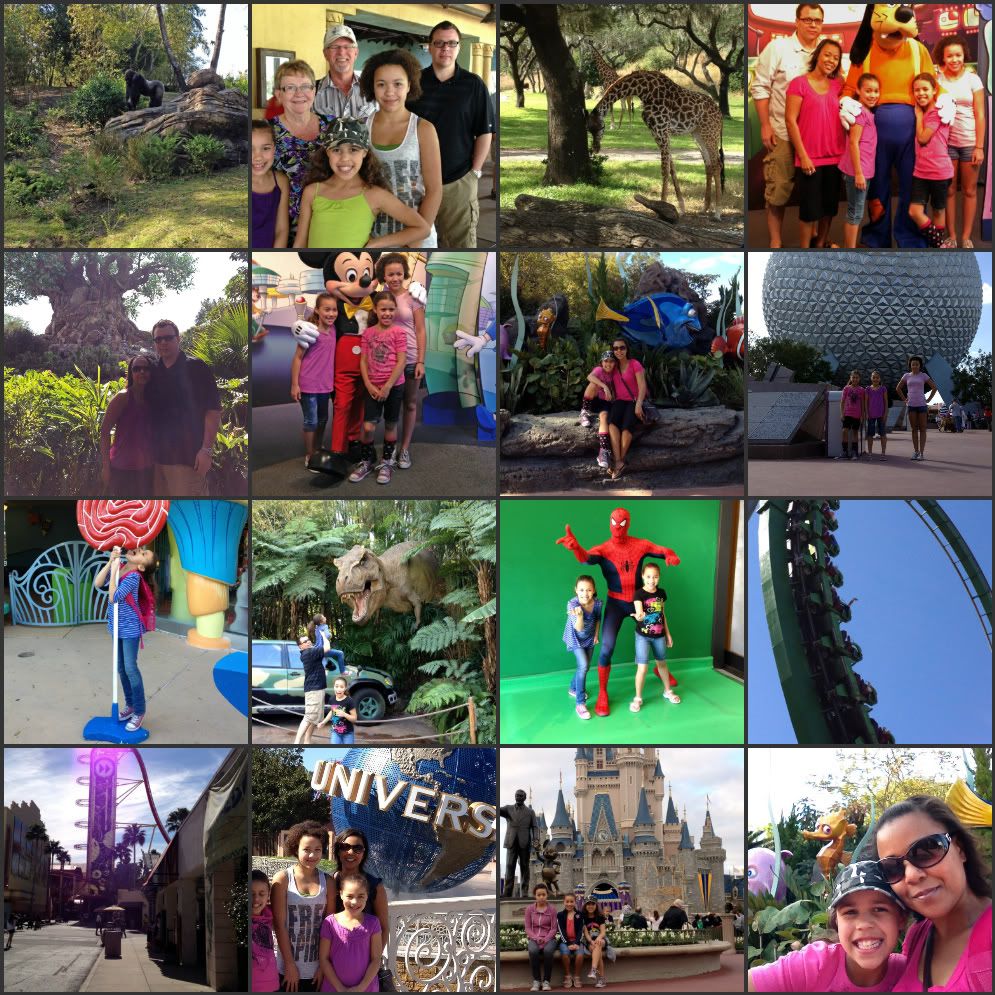 So, now we're back to life without the heat, the rides, or the fever of Disney. Instead we're now focused on life with Dance Competition practices, a Grade 3/4 Alice in Wonderland performance, and the start of a brand new semester. I have some scrapping to catch up on and am looking forward to the official start of my term on the Scrapping Everyday Miracles design team. Challenge #13 is set to go live in a few hours. You can check it out
here
. Also, you have a couple more day to get your application in for the
Creative Scrappers DT call
. It would be so great to get to work with Kristine and her team, especially since a few of my scrappy friends are currently on her DT. Good luck if you too decided to throw your hat in the ring.
Thanks for visiting. I hope your week is looking good from here.
♥ S.
Pin It