My friend
Danielle
is part of the
Use It Tuesday
Blog. It's a challenge blog where whole idea for the challenges revolves around using up your stash. Great idea for those of us with more product than we'll ever use in this lifetime. Truth be told, I actually purged a ton of scrap supplies at the beginning of summer. Entire collections, that I was just done working with were given away to a friend. I like new. I like only focusing on collections/items I have a plan for. No more buying anything just because it's cute, and I
think
I may use it one day. I did, however manage to hang onto a few things that I just couldn't get rid of. Like this fabulous orange chevron paper by My Mind's Eye. It's about 2 years old and from their Lime Twist collection.
Lucky for me Challenge #42 is to use the colour orange. As it turns out I had several "old" items that I held on to that were in fact orange (I must really like that colour, who knew?!) I decided that I would go with an all orange and white design. This photo of my scrappy girlfriend Carol, and me was perfect for the page.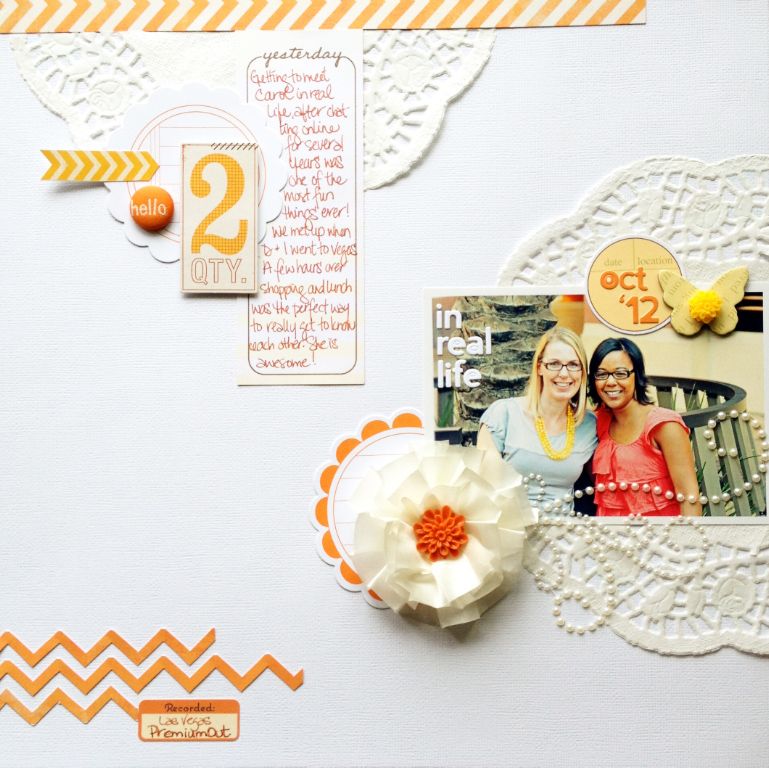 The Amy Tangerine tag, and brad, Jillibean Soup sprouts, Prima sculpture flowers, and that fabulous doily (my last one that size, sniff), were all items I had been
hoarding
saving.
Journaling reads: Getting to meet Carol in real life, after chatting online for several years was one of the most fun things ever! We met up when D & I went to Vegas. A few hours over shopping and lunch was the perfect way to really get to know each other. She is awesome!
Carol - this layout will always bring back sweet memories of meeting you in person and our wonderful time together connecting over all things scrappy, happy, and everything in between.
Thanks for stopping by today friends. If you're interested you can check out the Challenge #42
here
.
♥ S.